Natural Arizona Fine Gold in Vials
UPDATE - June 2016: With the price of gold dropping below $1500 per ounce we have not been able to make a living as small-scale gold miners and we do not currently have any gold inventory for sale. Hopefully the price will come back up soon and we can go back to doing what we love for a living.
About Placer Gold Fines in Vials
All images are of the actual Fine Gold & Vial being sold. Measurements are in inches and are approximate. All weights are measured on a Jscale HP-50X digital scale (calibrated weekly) with an accuracy rating of +/- 0.01 grams/ 0.0005 ounces/ 0.2 grains. Our gold is high in purity and 100% natural. Vials are plastic (for shipping safety) and each sale will also be accompanied by a Certificate of Authenticity signed by 'Desert' Drew.
Photos (Click to Enlarge)
Vial #V21509-1
Vial Size
Mesh Size
Weight of Gold
Price/Buy
1 Dram
(1 Oz.)

-8, +12
0.00 Grams
or
0.0000 Troy Ounces
or
0.0 Grains
#V21509-1
$00.00

| | |
| --- | --- |
| Locale: | Gold Basin Mining District, Mohave County, Arizona |
| Comments: | '08 inventory sold out. More Fine Gold Vials for sale in Feb. '09 |
About Placer Gold Fines in Vials
Sizing: Fine (A.K.A. "flour") placer gold is sized with standardized wire mesh seives (screens). Placer gold fines that pass through a given mesh size are rated "-", those that don't pass through are rated "+".
Here is a link to a sieve mesh conversion chart showing mesh size, inches, mm & microns.
Examples of common mesh sizes of fine placer gold:

Comparison of fine placer gold vial sizes:

---
(NationalAdventurer.com)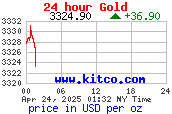 Please visit our other websites:
Desert Drew's RV Roof Systems
Our RV / Trailer / Mobile Home Roof Repair and Roof Seamless Membrane Resurfacing Business
NationalAdventurer.com
Our Full-Time Off-Grid RV Adventure Blog
(currently undergoing revison)
MojaveWindToys.com
Kites, Line Laundry, Wind Spinners, Yard Art, Toys and More!
(currently undergoing revison)
Time4u2Fly.com
Ultralight Trikes, Paragliding (PG), Speedflying, Powered Paragliding (PPG) and Other Ultralight Aircraft Info
(currently undergoing revison)